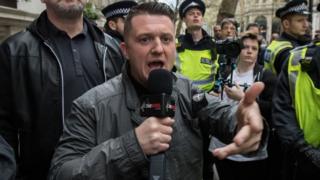 Former English Defence League (EDL) leader Tommy Robinson has been jailed for potentially prejudicing a court case, it can be reported.
Robinson, who appeared in the dock under real name Stephen Yaxley-Lennon, was arrested in Leeds on Friday.
The 35-year-old was broadcasting on social media outside the city's crown court where a trial was ongoing.
A ban on reporting his 13-month sentence at the same court was lifted after being challenged by the media.
Robinson was livestreaming via his Facebook page when he was arrested for a suspected breach of the peace outside the court.
Prison warning
Judge Geoffrey Marson QC initially imposed restrictions for fear that reporting his arrest would prejudice an ongoing trial.
The lifting of the court order followed protests outside Downing Street over the weekend.
Robinson was already subject to a suspended sentence for a contempt charge related to a separate case in Canterbury.
At the earlier sentencing hearing, the judge warned him he should expect to go to prison if he committed further offences.
Robinson founded the far-right EDL in 2009.
It became known for its street marches and demonstrations in towns and cities before he quit the group in 2013.